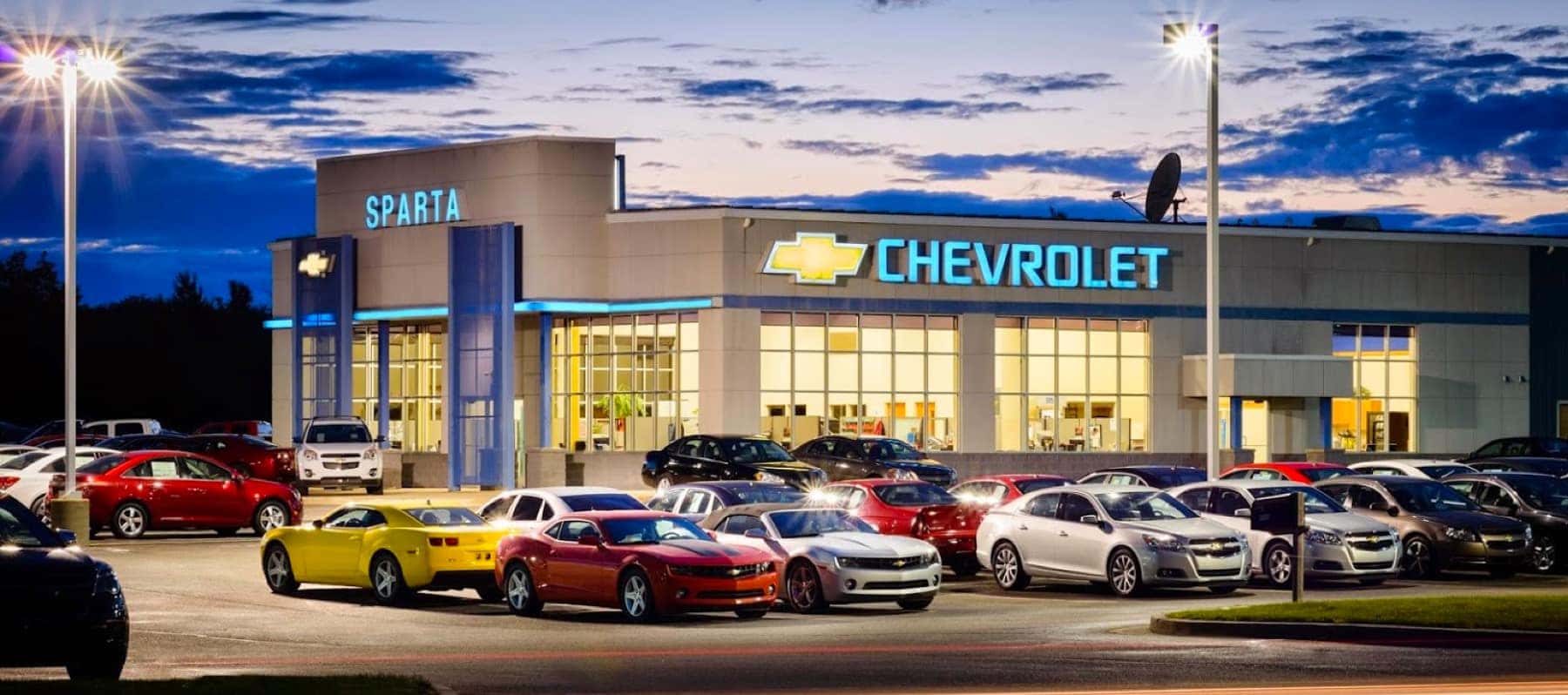 Welcome to Sparta Chevrolet, Inc.
Your Grand Rapids, Muskegon, MI, & Big Rapids New and Used Chevrolet Vehicle Source in Sparta, MI
At Sparta Chevrolet, Inc., we take great pride in the quality of our pre-owned cars, trucks, and SUVs. We carry all makes, models, colors, and styles to make sure we have an excellent option available for you at our beautiful Sparta dealership. We are happy to help Muskegon, MI Chevrolet customers with all their vehicle needs. We rigorously inspect all vehicles so that you can buy with peace of mind when you work with our team. Big Rapids Chevrolet shoppers should know that we provide financing options for both, new and certified used cars. For more information about our used car inventory or to enjoy a test drive today, contact us or visit Sparta Chevrolet, Inc. and meet our friendly sales advisors. We understand that not everyone can afford the car they intend to purchase, hence we also provide impeccable financing options for customers. Muskegon, MI and Big Rapids Chevrolet customers will be happy to know that our highly trained staff is at their disposal, so feel free to call or email us.
Ask A Question
Our Reviews
I totaled a car out in a car/deer crash this week and was in need of a new vehicle. Everywhere I called and went did not have what I needed on the lots because of the current new vehicle shortage. I called and stopped into Sparta Chevy and was able to put my name to a car that might be delivered sometime mid to late November. Hours later they called me back and advised they had what I was looking for on their lot because a deal had fallen through on the vehicle. They went out of their way and agreed to hold it in good faith for one hour until I got there, despite knowing that they didn't have to and easily could have sold it to another person on the waiting list. Since I had to hurry there I didn't have my down payment money with me. My salesman Matt Ploeg went out of his way and drove to my house with my wife to pick up the check while I was finishing up my paperwork. A big thank you to Matt Ploeg, Connor Vanderhyde, and Rich Goebel! You guys go way above and beyond and for that I highly recommend Sparta Chevy!
the staff is always friendly and knowledgeable about the customers needs . i was able to stop in to have something checked without a waiting period to be done . they got me in and out in no time !
Great service as always -- quick and thorough!
This is the second Chevy Silverado I have purchased in less than one year. I didn't think my 2020 purchase could be improved, but it was. This recent purchase was the easiest transition into a new vehicle I have ever had. Sparta Chevy took care of everything and guided me through every obstacle. Couldn't be happier with the service they provided
Anna was so great to work with! She was so helpful and kind and everyone helped make the process go smoothly.
polite and caring people ever where
Great Service Glad to see Josh is back
They were able to get my car in for service right away.
Our lease was ending soon and we were worried that because of the lack of cars out there, we would be in big trouble. Keith at Sparta Chevy called us immediately after a couple Equinox's came in. He got us one in our budget and we are set now for 3 years.
Good and Courteous Service.
Always get the best Service on our vehicles. They go over the top!
Like my experience so much when I purchased my vehicle last year that we returned for another vehicle this year
They are always considerate of my time, they take great care of my vehicle, prices are fair, and overall just great group of people!
A great dealer experience from quote through closing. Nice friendly staff, no pushing, good price on car and loan. I have recommended them several times in the two weeks I have owned the car. My salesman Matt was able to find a very hard to find model for my son where many other dealers failed.
Best Chevy dealer around. They have always done a Great job for me. Simply the best!!!
These people are great. We have bought many vehicles here and we still have our vehicles services here. We will return here.
Stacie is the best so sweet!!!
Service employees are very helpful and willing to accommodate additional services and answer questions I have. Connor spent a great deal of time with me looking at new vehicles and going through financing options while I waited for service. It is always a nice experience.
Tell them that I sent you!
Seriously the best car buying experience I've ever had. Anna and Rich were the kindest, and didn't pressure me into anything. Also props to tell both for coming in on their day off, it was greatly appreciated. I love my new 2019 Chevy Cruze, and I definitely will be going to them in the future! Thanks again guys!
Great service. Super nice people!
Very happy with trailer sales and repair.
Felt like I was home with family
Oil change, tire rotation and SUV inspection was fast and through!
Get Directions To Our Dealership